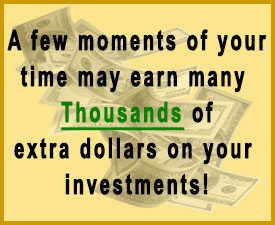 V.I.P. has been arranging private party and pension plan trust deed investments in California since 1976.
Our officers have over 100 years of combined trust deed experience. Most V.I.P. lenders have been
with us for a decade or two and numerous references are available on our company and officers.
Tired Of Bank Interest?
EARN HIGHER RATES
A fractionalized loan is one where several or many lenders are grouped together to make one loan.  V.I.P. has never offered and will not offer you a fractionalized trust deed. Our philosophy is that this practice, though easy for the broker, can be extremely dangerous for the lender. A separate article on "The Dangers of Fractionalized Trust Deeds" is available RIGHT HERE.
Your trust deed investment in California property comes in the form of a promissory note secured by a deed of trust with a title insurance policy insuring your position as a trust deed holder. Your name will be added to the fire insurance policy on the property, insuring you in case of fire. Our in-house escrow service assures fast and efficient loan processing.
V.I.P. Trust Deed Company will service this investment during its lifetime. Payments are normally made on a monthly basis; checks sent to you will have a complete breakdown of principal, interest, remaining balance, etc. Checks are mailed weekly.
---
V.I.P. is a member (or has been a member*) of most major mortgage institutes, including California Mortgage Association (CMA), California Trustees Association (CTA), National Association of Real Estate Appraisers, California Independent Mortgage Broker Association (CIMBA)*, Mortgage Institute*, California Trust Deed Brokers Association.
*no longer in business
CALL 818-248-0000 TODAY


and learn how V.I.P. can help you
build a solid trust deed portfolio.

You can read the Dangers of Fractionalized Trust Deeds
or  download the article in PDF format.