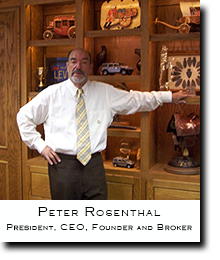 Peter Rosenthal was born in 1939 in New York City. Peter grew up in NYC, served in the U.S. Army from 1959-1961 and was recalled for a year during the Cuban missile crisis. Peter attended college at American University in Washington, D.C., graduating with a B.S. in Business Administration in 1966.
Peter's first job out of college was with Alcoa (Aluminum Company of America). After a year in Pittsburgh, Pennsylvania (Alcoa's home offices), Peter transferred to Los Angeles, California, where he met his future wife, Barbara, whom he married in 1968. Peter left Alcoa for an exciting job with Levi Strauss and Company, with territories in West Virginia and Madison, Wisconsin, Chicago, Illinois, and then back to Los Angeles in 1973. The Rosenthal family has resided in Los Angeles (La Cañada), California ever since.
In 1973-1974, Peter pursued his real estate interests with a neighbor, acquiring several rental properties in Glendale, California. In 1974 he obtained his real estate license and worked for a year in La Cañada selling residential real estate. Peter obtained his real estate broker's license in December, 1975 and immediately formed V.I.P. Realty Company in January, 1976.
Peter has been an officer and director of various Boards of Realtors and taught a 3 unit real estate finance course for several years (mid 1980's) at Glendale Community College. He authored a weekly real estate column for approximately 15 years, published by the Glendale News-Press, Foothill Leader, Burbank Leader and Foothill Ledger in earlier years. As of 1997 Peter's articles are published monthly in "Apartment Management" magazine and several Realtor publications. Peter has been a keynote speaker for decades before professional organizations and service groups, speaking on various topics including but not limited to trust deed fraud, the foreclosure process, restructuring trust deeds, etc.
Peter has always cooperated with and extended advice to various law enforcement agencies throughout California in the trust deed fraud area, and has served as an expert witness in dozens of Superior Court actions, mediations and arbitration's throughout California since 1983. Peter is an avid horseman and in his "spare time" manages to combat graffiti through a volunteer organization he founded in 1992 named Volunteers in Pride (V.I.P.). They eradicate graffiti in several California communities in addition to Griffith Park and portions of the 210, 134 and 2 Freeways. After twenty years and a marked reduction in local graffiti, the group was disbanded and volunteers continue to do individual clean up.
Peter has received numerous citizenship awards over the years, including La Crescenta Honorary Mayor's Humanitarian Award 1993 and Foothill Association of Realtors "Citizen of the Year 1994." He was picked one of Glendale's 103 most influential citizens in 1996 and again in 1997. In 1997 Peter was also awarded the First Annual Frank Roberts Award by the Montrose/Crescenta Valley Chamber of Commerce.
OK; What has Peter done for us recently? In 2006 he was awarded the Glendale Board of Education's "Character and Ethics Project Award" and in 2007 Peter received the city of Glendale's "Hometown Hero" Award. In 2010 Peter received the Glendale Police Departments Community Service Award.
---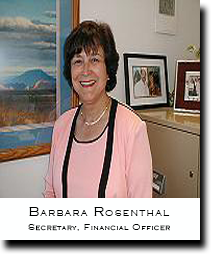 Though Barbara's title is Secretary and Financial Officer, she really oversees the day to day operations of the company and "holds it all together." Barbara fills every function as needed and can one minute be arranging a $300,000 wire transfer with any one of V.I.P.'s many banks and simultaneously be talking to a customer who only speaks Spanish.
Barbara is a native of San Salvador, El Salvador and Spanish is her native language. Barbara attended Immaculate Heart High School in Hollywood, California. After graduating high school, Barbara returned to El Salvador for a few years of banking experience and then returned to Los Angeles and attended Sawyer Business School in Los Angeles for one year. She then worked for Ralph M. Parsons Company in Los Angeles and later in Pasadena, California in various executive secretary positions. She worked in the mining division and had a fascinating position dealing with Parsons mining engineering operations worldwide.
Barbara met Peter, in Los Angeles in 1966. When Peter joined Levi Strauss Company and left for West Virginia, both parties realized the void and a year later they were married in West Virginia.
Barbara is the typical "super mom," providing invaluable management with the V.I.P. group in addition to having raised two children, Robert and Diana. Robert is married with two children; lives in Dallas and sells high dollar computer software. Diana is a licensed psychotherapist, in private practice. Diana lives in San Francisco. Managing the office, playing tennis, riding horses with Peter, and taking care of a virtual menagerie at home, keeps Barbara "on her toes"
---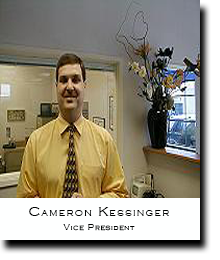 Cameron is one of the few Californians who was born here and never left. Cameron lived in Burbank his entire life. In fact, he notes, "I don't get out much." Cameron graduated Burbank High School in 1981. His mother Dorene is a Realtor and had worked for V.I.P. Realty since 1976. In 1982 Cameron joined V.I.P. as a "gopher" earning $4.50 an hour. At first V.I.P. didn't know exactly how they would use Cameron. Neither Cameron nor V.I.P. have been the same since.
Cameron immediately accepted task upon task upon task. Peter Rosenthal's typical quote is, "I am just a figurehead--Cameron REALLY runs the company." Cameron is one of those "be everywhere, do everything" type people, and through a rapid series of promotions became an officer and director of V.I.P. Trust Deed Company and, in fact, has acquired one half of the company stock.
In 1988 Cameron married Sandra, his high school sweetheart of ten years. They purchased a house in Burbank and over a period of years performed a major remodel with Cameron doing most of the construction. Sandra Kessinger is a commercial real estate appraiser with her own appraisal company.
In addition to being the "do everything" person at V.I.P., Cameron has found time to pursue a B.S. degree in Business Administration at California State University, Northridge, graduating in 1997.
If all of this were not enough, Cameron drove Sports 2000 class race cars for a few years in the mid-1980's and maintains an extensive "casino chip" collection.