If you ride in Griffith Park (Los Angeles California) you may have come across a Bay horse with a blaze, Happily walking, trotting or cantering along with no bridle. Though it is unusual to see a horse in the park with no bridle, it is truly amazing for this particular horse. Peter Rosenthal purchased this "horse with no name" along with another horse in December, 1999. The other horse was a $15000 (original cost) 7 year old Morgan being offered for sale "as is, no papers, guaranteed sound". The price was right ($3000) but there was a catch: the horse had to be purchased with another Morgan IE the throwaway. Peter purchased both horses for $3000 and ended up reselling the other horse "Ace" as Ace was a real show horse and not a good trail candidate. Peter was left with the throwaway. So starts the story of a truly remarkable horse that was originally destined "to be put down".
The nameless horse immediately became "Shy Boy". The name was borrowed for a couple of years from Monty Roberts as Shy (as he is now called) exhibited all of the wild, terrified characteristics of a mustang. Through a lot of luck and research, Shy's breeder was located in Kentucky. The breeder's first words were "he has a screw loose and I'm sorry I didn't have him put down; he is going to hurt somebody". She was not the last person to suggest a humane death to avoid a "worse fate" for a troubled horse.
The story of Shy can be best described in a letter that Peter sent to the seven people who had come into Shy's life. This letter was written in the Fall of 2000...If you ever run into Shy in Griffith Park, please stop and say "hello" to this wonder horse...
November 16, 2000
TO:  (in order of appearance)
Cheryl (Micky) McKeown
Tom Davids
Macie Ward
Jennifer Ormerod
Royan Herman
David Wratchford
Tony Esteban
RE:  SHYBOY
THANK YOU!!       THANK YOU!!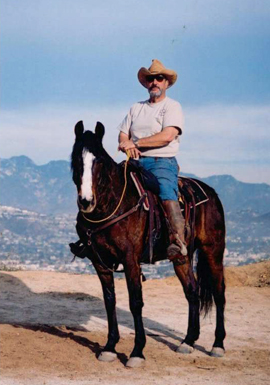 Each and every one of you has played a significant part in my acquiring and, far more importantly, keeping this wonderful horse.  The odds against this horse ever being my "perfect horse" were astronomical.  I had decided to sell this horse on two different occasions, one time as late as July 24.  Though most of you know the story because of my constant running mouth, I wanted to take this moment to thank you and give you the history so that you all know each other's part in Shyboy's evolution.
In early December 1999, CHERYL MC KEOWN handed me an ad from Horse Trader.  The ad was for a five-year-old Morgan gelding and a seven-year-old Morgan gelding: since my theoretical "perfect horse" was a young gelding with "presence". Little did I know I would have to buy them both.  The description on the phone was EXACTLY what I wanted from a physical point of view since both horses were 15 hands (my desired height), good looking, sound, and built to carry me with no problem.  Both horses had to be purchased together and they were dirt-cheap.
TOM DAVID'S first contribution to the saga was picking up the horses.  Some of you don't know I bought these horses "sight unseen", with Tom determining whether or not these horses were "as advertised".  They were, and he picked them up.  Though the story of the other horse is also interesting, it's not relevant here.
When we brought the horses to Burbank, they both had heavy winter coats but looked great.  Shyboy unfortunately was terrified of the world and literally hid in the back of his stall.  At one point I sat in his stall reading a magazine and totally ignored him, other than telling him "nobody is going to hurt you".
MACIE WARD worked with Shyboy from the second week in December through the second week in January.  Macie spent thirty days trying to convince Shyboy that we were not trying to kill him.  Most of that time was spent gently handling the horse, talking to the horse and getting Shyboy's trust.  At the end of thirty days it looked like I was going to have to sell him.  As it turns out, eleven months later, Shyboy is still not 100% convinced that we are not going to eat him.  A veterinarian looked in on Shyboy just a few weeks ago and Shyboy displayed his old terrified, "back-of-the-stall" posture.
I decided to give Shyboy a second chance and send him out to JENNIFER ORMEROD in Acton.  Shyboy stayed with Jennifer from mid-January through mid-April.  During that three-month period, Jennifer accomplished all of the groundwork including carrying a saddle comfortably.  Shyboy progressed so slowly that it again appeared this was a hopeless mission.  The horse would still explode in fright from time-to-time.  Frankly, at one point, there was even discussion with Jennifer about having Shyboy "put down".  We did not want to have Shyboy hurt someone or conversely, have him sold at auction and/or abused.  By mid-April, Jennifer realized that Shyboy was going to be a long, long project.  I again decided to sell Shyboy.
TOM DAVIDS had originally taken him to Jennifer's, and then took him from Jennifer's to ROYAN HERMAN's property in Shadow Hills, pending Shyboy's sale.  From day one, Tom had seen the great potential in Shyboy and casually suggested giving him another chance.  That little nudge was all I needed, because deep down I hated to give up on this horse.  By then I had set up three showings to fully qualified project-horse type buyers.  I cancelled the ad and cancelled the appointments to show Shyboy.
At that point, some four months after acquisition, Shyboy still had major paranoia with anybody "above him", on platforms, pipe corrals, or the approach of stable hands with pitchforks and/or carts.  Shyboy also had a major problem with the idea of a foot being lifted into the stirrup.  Ironically, when I visited Shyboy at Jennifer's, Shyboy was comfortable with the saddle and allowed significant weight (from the ground) on either stirrup, both stirrups, or saddle horn.  Since Shyboy didn't like raised feet, Royan and I spent some time doing gym-type leg raises along his sides.  At that point Royan was able to step up and step down.  Royan and I were looking forward to spending a few more months further gentling Shyboy to ride.
A few days after Tom brought Shyboy down to Royan's, I saw a note on Triple R's bulletin board for "starting colts and problem horses".  Shyboy sure needed "starting" and he sure was a problem horse.  Along came DAVE WRATCHFORD.  I asked Dave to evaluate Shyboy and he came out to Royan's that night.  He saddled Shyboy, worked him in the round pen and noted that Jennifer had really prepared him well.  Things went so well that Dave put a foot in the stirrup:  Shyboy bolted as he had done with Jennifer.  Dave gathered Shyboy back up and stepped up a second time and Shyboy stood stock still.  After a few more minutes of preparation Dave was mounted.  Dave worked Shyboy at a walk, trot and canter without incident and only noted that the horse had no idea of what STOP meant.  What a transition, somebody had actually ridden this problem horse.  Though Royan was pleased that Shyboy had his first ride, she was very disappointed she would not have the opportunity to work with this wonderful horse further.  The horse was still paranoid and afraid of people but handled Dave's daily rides very well.  It was interesting because the typical method of walking a horse into a fence and asking for a stop only resulted in Shyboy hesitating and immediately sidestepping.  A complete stop was almost intolerable – he had to go somewhere.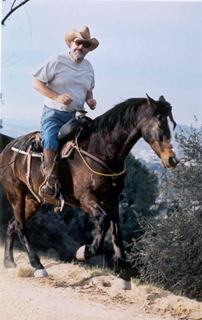 Dave rode Shyboy religiously for another three-month period.  During that period of time I was able to spend many hours working on his head (we're not going to kill you) while Dave did a great job on the riding end.  Unfortunately, by the end of July, Shyboy had still not gained enough confidence to become calm and dependable and he would bolt at any provocation.  I rode him a few times during that period and almost "turned him" over the edge of a hill on one bolting incident.  By the end of July, I VERY RELUCTANTLY decided to again sell Shyboy, as I couldn't risk serious injury with an unpredictable horse.
TONY ESTEBAN, a real estate friend, knew and loved the horse and was upset that I was again "giving up".  Tony asked to ride Shyboy for a period of thirty days to give Shyboy more miles and hours of wet saddle blankets.  How could I refuse?  I still loved this horse and the move to Burbank would only make it easier for me to reassure Shyboy "nobody was going to kill him".  Tony volunteered to be a "crash dummy", but fortunately there were no crashes.  The goal was to end up with ten rides with no bolting so that I could be comfortable enough to ride Shyboy myself.
Once again Tom picked up the horse and this time I was able to show off having Shyboy approach ME in a big pasture – a previous impossibility.  I rode (a rental horse) with Tony on many of his rides and really enjoyed watching Shyboy slowly improve.  On occasion I would ride Shyboy around the equestrian center alone, however Shyboy was always nervous and tense.  This made me nervous which was transmitted back to him.  Shyboy just couldn't relax.
One Saturday (just short of thirty days), I rode Shyboy over to Joe's Trading Post.  He seemed relaxed and I went over the swinging bridge into the park.  I enjoyed my first (outside) canter part way up Rattlesnake.  I then asked for a transition down to a walk and got it.  Another canter, another walk – what joy!  I then rode Skyline down past the condor cages.  Rather than continue down, I turned around and had a couple of more canters and walks on the way back – totally relaxed.  At that point I was so happy I called Tony.  Tony was just getting ready to take his horse for a ride so he met me at Martinez arena and we rode together for another 1 ½ hours.
At that point there was no looking back.  He made it!  I made it!  It seems we are a perfect marriage for each other.  One of the boarders at Triple R suggested that Shyboy knew he was using up his "last chance".
It has now been eleven months since Tom brought Shyboy to me.  Obviously, it took a FULL eleven months to make a horse out of  "SHY".  He is no longer Shyboy, as I hated stealing the name from Monty Roberts; it really suited him however.  Fortunately he is no longer shy, but he went through so much that the name will always remind me of his start.
The Shy saga and my hopefully "perfect horse" could not have ended up this way without the support of each and every one of you.  Although it seems that Tony gets all the credit for thirty days riding, that was thirty days of riding after ninety days of riding, ninety days with Jennifer and thirty days with Macie.  Though Dave gets the credit for the first ride and three months of great work, that could not have happened without Jennifer's three months of patience and groundwork with a "truly disturbed" horse.  As I go backwards, it would seem that Macie had very little to do with this whole progression.  Actually, nothing could be further from the truth as the first thirty days were perhaps the most traumatic for Shy.  It took Macie three days just to have Shy comfortable enough to take off his lead rope.  Macie spent many, many hours just being in Shy's presence.  This story would never have gotten past the Jennifer stage if Tom hadn't made some well-placed comments.  As usual, Royan was my "support group" during this whole experience and visited Shy with me at Jennifer's and then opened up her facilities to Shy in May.  She also rode Shy in a clinic in June.  I would not have this horse today if it weren't for each and every one of you and your contributions to this story.  It all started with Cheryl's small classified ad.
THANK YOU,  THANK YOU!
FROM PETE AND SHY !! "
PLEASE NOTE, THIS LETTER WAS WRITTEN
20 +/- YEARS AGO.  WE ARE STILL GOING STRONG.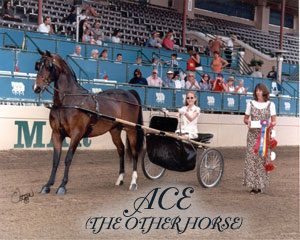 If you would like to see a few more "Shy" Pictures
Please go to Shyboy Picture Gallery
All Shy Photo's taken by:
Cynthia Smalley
Smalley Photo
Thank you Cynthia!